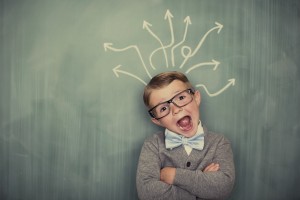 ADHD is a condition characterised by the three "core" symptoms of hyperactivity, inattention and impulsivity. Some children may be predominantly hyperactive and impulsive and some may be predominantly inattentive. ADHD affects around 5% of school age children in the UK. When considering the diagnosis, the symptoms must be present in two or more settings (usually home and school) and have a significant impact on the child's life such as their social, emotional, psychological and educational functioning when compared to children who do not have ADHD.
ADHD in children often co-exists with other conditions such as Autism Spectrum Disorder, conduct problems, anxiety, depression, learning difficulties (including dyslexia) and difficulties with coordination and movement (dyspraxia or "DCD").
If ADHD is not diagnosed and treated it can go on to have serious effects on a child's social and emotional wellbeing, underachievement at school and cause significant family stress and disruption.
We offer the following  ADHD assessments for children at the Centre:
ADHD diagnostic package
We have recently revised our ADHD assessment, which is now done by two clinicians. This is partly because we are now able to provide an assessment called QB Check, a computerised tool which is a very accurate assessment for ADHD, used alongside the clinical assessment. Information from school as well as home is collected and a thorough developmental history and interview with the parents/carers is carried out. We also conduct a thorough cognitive assessment to look for any specific learning difficulties. If a diagnosis of ADHD is made, a full explanation will be given and advice regarding further management, including medication, which can be started on the same day.
A full written report is produced for all patients.
Cost of ADHD assessment £1450
ADHD neurodevelopmental package
This is a more comprehensive package which is carried out by our specialist neurodevelopmental Paediatrician and his Psychologist colleague. It is a more detailed assessment which includes contact with school and structured questionnaires for the parents, but also assessment for other co-existing conditions, a detailed behavioural evaluation, more thorough assessments of attention and a comprehensive cognitive assessment. The whole assessment takes around 2.5 hours and a full written report is produced for all patients.
Cost of assessment £1850
Neurodevelopmental Assessment
In view of the fact that ADHD and Autism often overlap with other conditions, we also offer this more comprehensive package which would be recommended for children who may have more complex difficulties. The assessment is carried out by our specialist neurodevelopmental Paediatrician and his colleague. This may be a Psychologist or a Speech and Language Therapist depending on the child's main difficulties. Prior to the appointment, relevant information will be collected from school and home, including a school observation report from your child's teacher. The assessment itself includes an ADOS (an observational test to assess communication, social interaction and play) which is adapted to the age of the child and a detailed developmental evaluation. Standardised tests are carried out to look for other co-existing conditions and include a specialist behavioural assessment, a full cognitive assessment, more thorough tests of attention and an evaluation of communication difficulties. The whole assessment takes 3-4 hours in total and at the end of the appointment, we will discuss the possibility of a diagnosis of Autism, ADHD or other conditions. Very rarely, more information may be requested from school before a final conclusion may be reached. A full written report is produced for all patients.
Cost of Assessment £2400
Follow-up appointments
If children receive a diagnosis of ADHD they will be given a number of treatment options. If a decision is made to start medication, an initial appointment will be offered followed by a further appointment one month later. The cost of each appointment is £160. If your GP is able to share your care with us once medication is stabilised, the frequency of further follow-up appointments will depend upon the complexity of the case and parental request.
Cost of a follow-up appointment £200 – £250 (with QB Test)
New patient appointments
We appreciate that some patients may already have a diagnosis of ADHD but would like to visit the clinic for a second opinion or advice regarding management/medication. In these cases we would attempt to gather as much information as possible from your GP or consultant and offer a longer appointment in order to thoroughly review all of the  information before offering advice.
Cost of a new patient appointment £325
QB Check
QB Check is a computerised assessment lasting 15-20 minutes and is an aid to the diagnosis of ADHD. The child is asked to respond as quickly and accurately as possible to certain shapes appearing on a computer screen by pressing the spacebar on a computer keyboard. As they perform the task, a camera located above the computer screen records their activity during the assessment.
The assessment is able to record movement, rating levels of hyperactivity, as well as readings which give an indication of the degree of inattention and impulsivity. It has been shown to be a very accurate assessment for ADHD when used in addition to the clinical interview and can also be used to assess response to treatment.
Cost of a QB Check plus written report £195